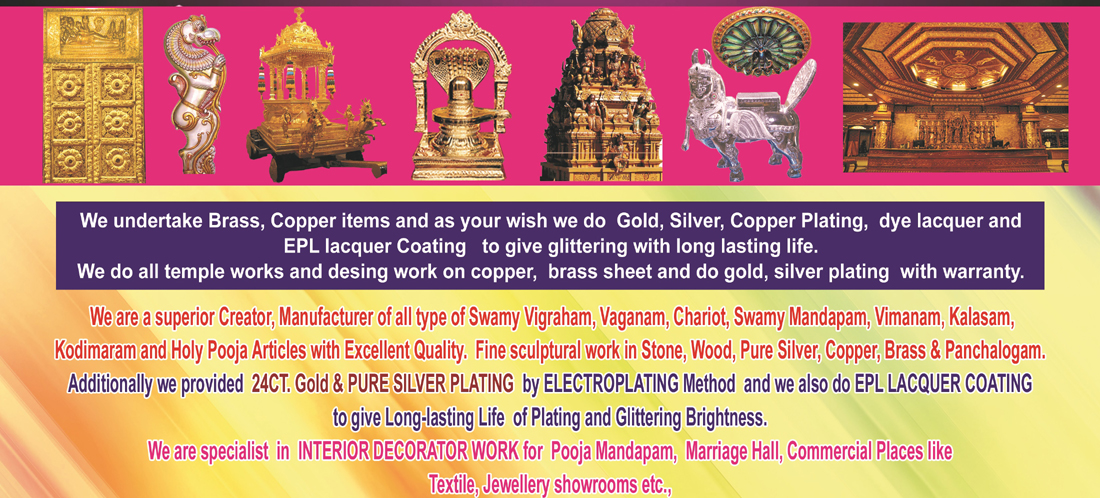 Who we are
Welcome to SRI VADIVELAVAN METALS, Kumbakonam, manufacturers of religious statues, figures and plaques, exporters of variety Statues and traditional architectural service provider. Our brandleaves no stone unturned in delighting its customers with a wide range of products and perfect quality.
We offer varieties of unique God statue and Idols at attractive price. Customers can make best selection from wide range of products.We are one of the first of a kind online shop that has the largest variety of metal/brass statues, which have been uniquely designed by our skilled artists and have been given pioneering finishing with colors to exceed customers' expectations for spiritual and decorative purposes.
Your favorite God idols are available on (SRI VADIVELAVAN METALS.COM). You can buy Idols and statue online from this website and there are many more options provided by this website for auspicious decor items. This website has provided categories for God & Goddess idols. You can get them as per religion, material, best sellers and by discount.
What We Do:
SRI VADIVELAVAN METALS – being into this business for last —-years we choose the finest of the Hindu Gods Statues, Buddha statues, Singing bowls, Animal statues and other brass showpieces from different parts of India. We 'Wow' our customers with the finest sculptures that exceed their satisfaction levels and at the same time offer great value to the artists who design and transform metal pieces in to excellent samples of their art, talent and craftsmanship.
About the raw material:
We use the best quality metal/brass,so that these statues retain their shine for a long period of time. Skilled professionals well trained in the art.
Brass Category: Metal. Brass statues are popular than any other metal because of its everlasting shine, no maintenance, great resale value, and affordability.
Our Journey:
SRI VADIVELAVAN METALS, Kumbakonam -It all got started7 decades ago by our elder generation, when they got into this wonderful business of selling these ideal pieces of art.
To continue doing it with the same passion and zeal we have been thinking how can we expand the reach of this lovely art to everyone worldwide. And we then came across this idea of selling it online through e-commerce, thereby taking this art and knowledge around them to every nook and corner of the world. That's how and why, (SRI VADIVELAVAN METALS.COM) was born